Disclosure: Town & Tourist may receive a commission for purchases made through links in this article, at no additional cost to you.
So you need a 3 week itinerary for Peru? Backpacking Around Peru is a fulfilling experience which invites a unique opportunity to explore all of the natural richness and culture from this vast South America Sweetheart!
From the raw natural beauty of the Nazca desert to treks along the Gigantic Andes which descends into the vibrant and colourful Amazon Jungle! Peru is a magical place, but to help you get the most out of it, it helps to have good Peru 3 week itinerary.
Why 3 weeks in Peru? 3 weeks is a great amount of time to explore all the wonders Peru, it also is an easy amount of time to get off from work for most and have the freedom to explore Peru!
Why do you need a good 3 Week Itinerary for Peru?
"Having a well thought out, planned and fun packed itinerary is proven to save you time, stress and expenses, while giving you to get the most out of your experience!" ….Independent Tourism Study (ITS) (2019)

"A goal without a plan is just a wish"….Mtravels.
A good itinerary should outline approximately how long you would like to spend in each area. If you don't know for sure, that is fine…just make a guess for now. I know some friends who have spend weeks, and even months planning for a trip only to find out they have missed out key information which messed up their entire plans!
Don't be that guy or girl! So for your viewing pleasure I have provided you guys with my ultimate Peru 3 week itinerary which includes, Lima, the Amazon river and rainforest! , Arequipa, Colca Canyon, Lake Titicaca, Machu Picchu and Cusco.
1. Flight to Lima (Capital City) of Peru.
2. Spend one night in Lima. (Day 1)
Here I spent just one night at the start and then a couple of day's before flying back home to do some shopping/gift shopping and actually see the city.
I stayed at Costa del Sol Wyndham Lima Airport Hotel, just opposite from airport to allow me to catch the easy flight to Iquitos in the morning. If you can time your flights closer, even better then you won't even have to stay a night. Or alternatively spend 2 days in Lima at the start of your trip.
3. Flight from Lima to Iquitos (Amazon Rainforest) (Day 2)
Flight: Flight from Lima to Iquitos (approx. 2 hours)
Although usually if visiting the Amazon you would head to Brazil which has a massive 60% of the amazon on it's land! Peru by comparison only contains 13%, even though it does cover a large portion of peruvian land. However, as i was heading to Peru and didn't have a Brazil trip planned in the near future this seemed like a great opportunity to see the worlds largest rainforest! One of the most amazing and colourful places on earth! – It was definitely worth it! The Peru portion of the Amazon has two main access points via Iquitos or Puerto Maldonado. I decided to head to the further point of Iquitos. The portion here has another one of worlds wonders, the Amazon river running through it which is another amazing wonder! Renowned for diverse wildlife from pink dolphins to Piranhas!
4. Amazon Rainforest (Days 2-4)
A great place where I stayed was the Amazon Muyuna Lodge. This is just a 3-hour boat trip up the Amazon River from Iquitos and a nice place to unwind & get your home comforts before heading back to the crazy jungle!
Here I do recommend getting a local guide as heading into the amazon without one is pretty crazy it is the largest rainforest in the world! Also, guides have a wealth of experience and knowledge, they know the best places to spot the pink dolphins and the best parts of the rainforest to take you!
5. Flight to Arequipa (Days 5)
Flight: from Iquitos to Lima (approx. 2 hours) – Flight from Lima to Arequipa (1.5 hours)
6. Arequipa (Day 5-6)
Arequipa is sometimes solely thought of as a gateway to Colca Canyon. However, it is a special and subtle place despite being peru's second largest city.
The "White city" as commonly called has vast and beautiful historic buildings made out of (Sillar, white volcanic rock) . Santa Cantalina Monastery, embodies this! This is a high altitude city (at a whopping 2328 metres in altitude) with alot to offer!
7. Colca Canyon (Day 7-8)
How to get there?
Take a Private bus from Arequipa to Colca Canyon as part of a 2 days/1 night tour with a local tour guide organised by Town&Tourist. (Enquire for details)
Colca Canyon a Vast canyon, twice as deep as the "Grand Canyon" in the U.S.A!
Safety Tip: When heading through Aguada Blanca National Reserve and up to the Patapampa Mountain pass, you will be around 4900 metres above sea level! Such high altitude can make you feel dizzy and even sick! So drink water, stay hydrated and even try the local "Coca Tea" it's what it's for!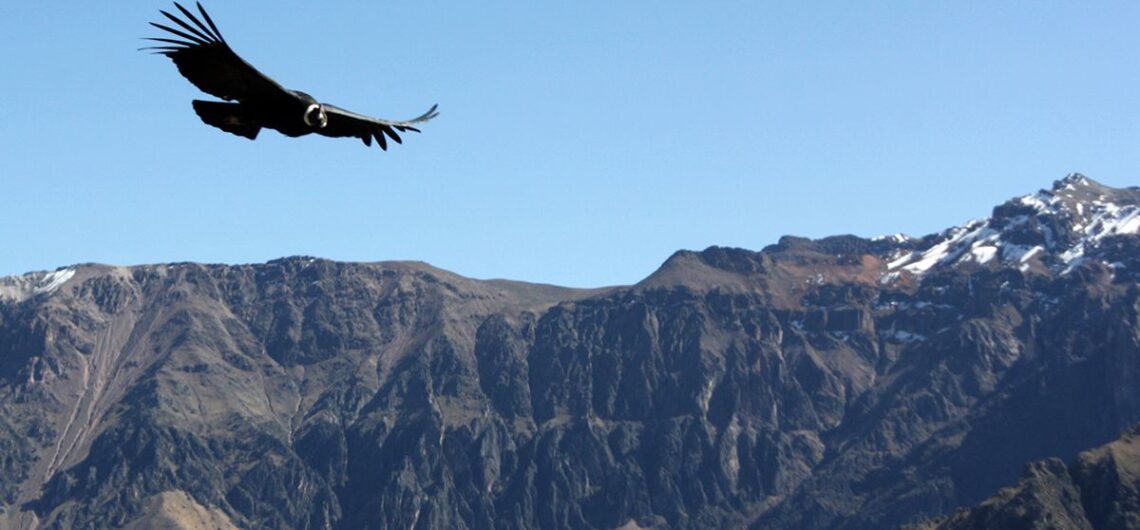 Bird Spotting? The Cruz del Condor is the perfect location for spotting soaring majestic condors!
8. Head to Puno (Day 9)
How to get there?
Take a Tourist bus from Chivay to Puno Travel time approximately 6.5 hours! This is another high altitude are at approximately 3810 metres or 12,500 ft! So stay hydrated! Puno sits on the edge of Lake Titicaca, which is the reason why most travellers pass through this port city as it's not the most classically beautiful place. One night is enough usually.
9. Head to Lake Titicaca (Days 10-11)
How do i get there?
Take a Tour boat from Puno to Amantaní island (3 hours)
Lake Titicaca is the highest navigable lake in the world! Located on the edge of the Bolivian border. Renowned for it's floating islands of the ancient Uros people and lake excursions!
Recommended By TownandTourist – If you would like to really get a feel of the local culture and island life, some backpackers like to organise a homestay with a local family on the Amantani island!
10. Fly from Julica to Cusco (Day 12)
This flight takes approximately 1 hour
11. Cusco (Days 12-13)
Cusco is considered the gateway to Machu Picchu and the Sacred Valley! This is a hub for tourists however that has not affected it's charm! There is so much to do in this city that you will wan't to stay longer! I nice place to stay is at Hotel Rumi Punku boutique hotel cultural and artistic San Blas area.
12. Salkantay Trek to Machu Picchu (Day 14-Day 19)
Machu Picchu one of the only reasons people travel to Peru! There are a few options to getting up there one is to take a train up to the Inca or hike along the "Inca Trail". Another option is the Salktantay trail, [Taking this trial with one of our partners offers lodging along the trail rather than camping areas, Enquire for further details on how to book.] This will Depend upon how much you wan't to ruff it!
Luxury Lodges? – These Offer a Jacuzzi and massage to relax and comfort you after a harsh days trekking on difficult terrain!
13. Flight from Cusco to Lima (1.5 hours) (Day 19)e.
14. Back in Lima (Days 20-21)
Back in the capital city now, this is a great time to unwind, head to the beach, taste some exquisite food at top restaurants and of course do some gift shopping for friends and family before flying back home! One restaurant is called : "Astrid y Gasto'n" –
This is on the world 's top 50 best restaurants but a reservation must be made before hand! If you would rather something more low key but still gorgeous then try a delicious homemade meal with a local Peruvian family. Contact Mtravel's for details on how to arrange.
15. Fly Home!
Fly home from Lima with many great memories or onto your next country if your lucky enough!
Note on Transport: Bus travel is easy and cheap in Peru although some can be crowded. Many local tour companies offer private transfers if you don't like this. Another option to maximise your time for exploration and can the most out of your three weeks is to fly when you can like i did above!
---
The Bottom Line on Peru in 3 weeks.
Peru is a magical place and a true wonderland where you will have an amazing memorable experience! Now your equip with Itinerary above, you will be sure to get the most out of your next adventure!
---
Want to save money on your next Hotel in Peru?
Use the handy tool below to compare thousands of hotel deals!
---
Trending Articles for you
Essential Do's And Don't's for backpacking in South America! – Scams to Avoid.
---
Why not inspire a friend?
Share this article with them on Facebook or Pinterest.
[social_warfare buttons="Facebook,Pinterest"]